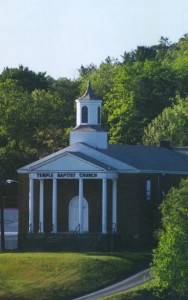 Temple Baptist Church was organized as an Independent Baptist Church on August 25, 1957. The Church had previously belonged to the Southern Baptist Association and was called French Broad Avenue Baptist Church. Edward B. Shoff was the Pastor when the church withdrew its membership from the Southern Baptist Convention and reorganized as an Independent Baptist Church.
The original building, located on South French Broad Avenue, was sold on March 7, 1958 to the Varrich Chapel A.M.E. for $30,000. The last service at this location was held on Easter Sunday, April 6, 1958.
The Church held services temporarily in the Labor Temple while waiting for the Lord's leading concerning a place to rebuild. The Lord led the congregation to the present location on Patton Avenue. The ground was broken on Sunday, June 8, 1958, and the property was dedicated to the Lord. The first service in the new building was held on November 23, 1958. Dr. Theodore Mercer conducted that service. At that time, there were fifty-nine members in the congregation. Edward B. Shoff resigned as Pastor on September 27, 1961, and the Church elected the part-time assistant pastor, Robert A. Griffith, to the office of Pastor that same day. In 1966, two bond issues for $145,000 were sold to build the new chapel. The first service in the new chapel was held on December 3, 1967. Pastor Griffith resigned June 14, 1970, and Joe Olachea became the Pastor on June 7, 1971.
The Church voted to begin a Bible Institute on February 4, 1976. Later that year, on May 4, 1976, the Church began a Christian School, starting with a kindergarten. The school has classes from K-4 through the twelfth grade. Don Austin became the first principal of the school in July, 1979. He was also elected Assistant Pastor. Bro. Austin served in this capacity for ten years and was followed by Raymond Bailey as School Administrator. The current School Administrator is Bill Spence.
In June 1997, Pastor Olachea retired, having served the church as its pastor for twenty-six years. Bro. Randy Bray was called as Pastor in August 1997. Pastor Bray has been faithfully serving at Temple for eighteen years.
In summer of 2006, the church, under direction of Pastor Bray, broke ground on the new gymnasium facility on Hawkins Lane. The gymnasium had been a vision long prepared for by Pastor Olachea. After two years of hard work and the Lord's provision, the gymnasium was finally brought to an operationaly complete state. The gymnasium was dedicated in January of 2009 with a special service held on the basketball court. It is the prayer of the church, Pastor Bray, and Mr. Spence that the gym be used for the glory of God.